presents


(the luminous paving-stone)
.

The luminous paving-stone

With the brandnew luminous cobble-stone you can make constructive dreams true. This shining signpost you can even use for more than sett classical pavements, but also in stepstones, in the garden, as part of a fountain and much more it can be integrated easily. Because of its 12V LED technology and weatherproofed materials it can be used really everywhere, interior and exterior. The LED technology allows unremovable integration of the light in the clear resinbody of the "Wisdom". The datasheets of LEDs used for the "Wisdom" have a life expectancy of 60.-80.000 hours. When you use it 8 hrs. daily the "Wisdom" will even shine after 30 years.
.
The "Wisdom" is fed with 12V D.C. current,
consumption is ~ 20 mA, full safety IP68
.


.

Please click to enlarge!
. . .
. .

The available colours are: warm-white, pole-white, amparo-blue, emerald-green, scarlet-red and sundance-yellow.
..
The luminous paving-stone is available in many sizes and designs.
Wisdom sizes + examples of built in
Further more you find the
technichal datas and advice how to build in here
and our
Wisdom online-brochure as PDF (950kb)

you can get the Acrobat Reader here
---

The sett-stone W88 is ready for delivery in 6 cols.!
Lightstone with new, fine surface.
---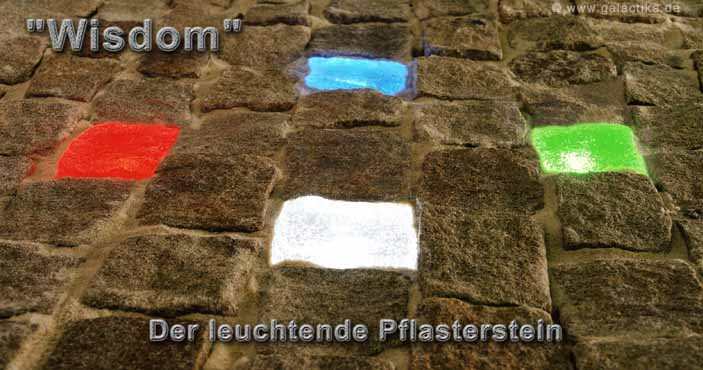 ---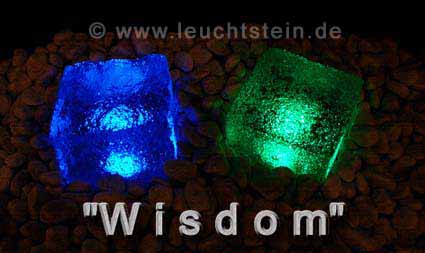 ---
"Wisdom" Home Edition
A paving-stone as a luminous highlight in your home. On a bottom of stainless steel and not sett-paved the "Wisdom" Home Edition presents itself. Powered by three 1,5V batteries the "Wisdom" Home shines more than 2 weeks continuously. The small LED inside is good enough to illuminate a whole room at night. With help of an electronic component it shuts off when you overturn it to its sight. Available in the colours: pole-white, amparo-blue, emerald-green, scarlet-red and sundance-yellow
---