presents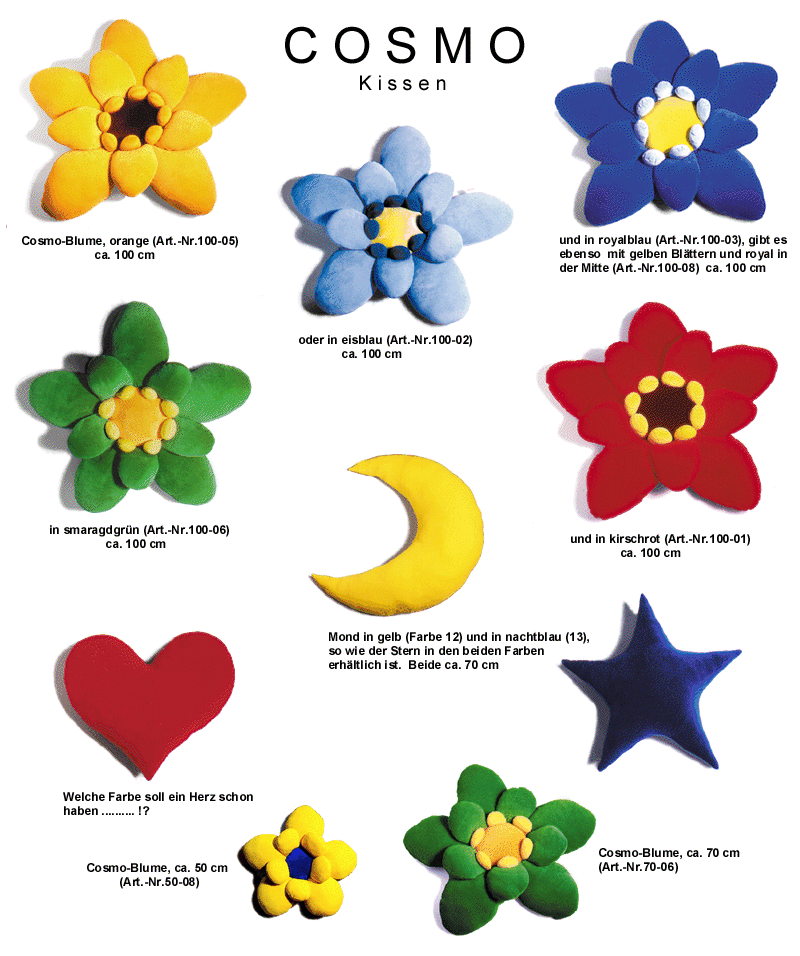 The COSMO Flowers in 50- and 70 cm are available in the same colourcombinations as the 100 cm flowers.
The 50 cm flower has got no fruitleaves in contrast-col. and the 70 cm flower shows six instead of the eight
fruitleaves from the 100 cm flower.
COSMO, the fancy cushion is handmade from supersoft, high quality knitted velvet. In the fabricproduction we use finest, combed cotton qualities only which we dy without any poison for you. COSMO cushions are filled with antiallergic polyesterpadding. Because we use best quality fibres here you must not worry that your COSMO becomes flat and ugly once. We guarantee for our selected quality. On the sofa, on the bed, or simply on the floor, the COSMO cushion always look good. Wether you want to spend a lazy time or you cuddle with your partner, on the gig sized COSMOs it brings the double fun.
registered copyright on all products on site.
another product in the COSMO-family:
"Smile", the decoflower
Click the pics ...
These SMILES look for a new home.
They are always friendly and housetrained!
ca.25 cm high, blooms diameter ca.18 cm
---